Read this post in:

Deutsch
To find a "Latte Macchiato" or a good Cappuccino in Seville is close to a miracle. This is not Italy. And getting a good coffee is difficult in the Andalusian capital – unless you like the bitter flavor of burnt coffee beans like the locals do. Because what they are used to is a type of bean that's called torrefacto. Which means the process of adding a certain amount of sugar during roasting in order to glaze the beans. While you roast the beans this sugar gets burnt and there we get our bitter flavor from!
So if you wish a good coffee, without sugar added or charcoal taste, where do you get that in our lovely town?
Here you get a list of our coffee experts in Seville – and fabulous cake makers too 😉
The best coffee shops in Seville
1 Torch – for the coffee connoisseur
A true expert in making coffee. Here you get it the way you want: different coffee beans and brewing options like french press is just a small indicator for the passion the two sisters have for their profession. They offer a variety of pastries, cakes, breakfast options and also tea.
But if you ask for sugar, don't be surprised to get a long explanation about why you shouldn't put sugar in the coffee!
Living their truth, authentic, excellent and professional: That's Torch
2 Jester – healthy hipster innovator
My all time's favorite: Italian coffee, perfect milk temperature, best cakes and pastries in town! Here you get the best coffee flavor with perfect milk cream, and other coffee specials like Iced coffee and Frappuccino. Plus healthy and delicious juices and smoothies.  Like a Starbucks but better and cheaper!
Jester means in polish: Here I am. And that's exactly what they do: they came, saw, and conquered.
There's nothing comparable to that place. Just lovely unique and the perfect mix of cozy, familiar and newish – fancy style. Don't miss to try one of their cakes. They are ALL self-made!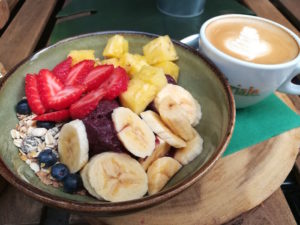 3 Viajero Sedentario und Caótica
Book Lovers? Hipster? Intellectual coffee expert? These two sister places are your spot to meet, been seen and enjoy Italian coffee with homemade cakes!
4 Café del Valle
Thanks God we have in Los Remedios at least one place to have a good coffee.  El Café del Valle ist a haven for the senses: nice Chillout-Lounge music, an relaxed environment and the smell of cinnamon invites you to stay for hours and have a little break from busy life. Relax and enjoy a true Latte Macchiato for only 1,80€!
5 El Gusto
Especially as a tourist this is a great location. Enjoy a good Italian coffee on their terrace and the view: it's just right in front of the cathedral gazing into their garden of orange-trees.
 INSIDER: Virgin Coffee – Get the best Coffee-to-go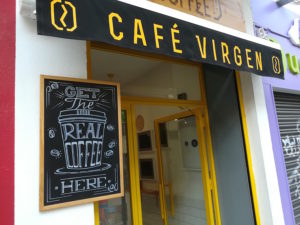 TAKE AWAY? Then go to Virgin's Coffee – just behind the Setas.
Every time there are more good coffee places. But the owner of Virgin Coffee is unique and passionate about roasting and brewing the best coffee in Seville – TO GO!
And it does what it says on the tin: Get the real coffee here.