Not only digital nomads love to combine coffee, work and sun! Also students, freelancers and entrepreneurs are looking for places where to sit outside while working and tasting a good coffee. But not every place is a workspace. Some basics need to be provided. Here I leave you my favorite "coffeecinas" outside around Alameda, Encarnación and Triana/Los Remedios.
But cuidado! All these places are good to work during the week, calm and some with good chill out music.  But don't pretend to find the same environment during the weekend when sevillano families and friends are on the road! You know Spanish is not a language to speak quietly 😉
Not only cozy and familiar, but multicultural and alternative! This lovely place offers not only a cute outdoor space to work, but Italian coffee and great cakes. PLUS: cultural events like open air cinema, book presentations or Swing Sundays!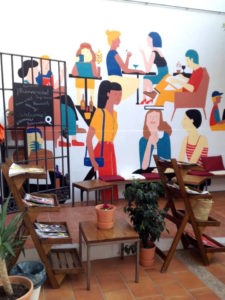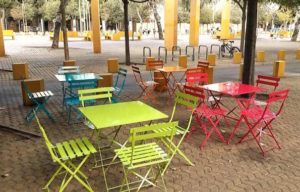 This place is just gorgeous and it makes me feel like being back in Bali! Chill out music and bamboo chairs gives you that tropical feeling. They provide coffee, teas, cakes and breakfast.
This is the most recent opening in Alameda (opened 17th of march 2018). And it already turned into another alternative hipster hotspot in this area! Just next to the viajero sedentario. Sevilla is getting on the track!
They offer many breakfast options including fresh juices as well as some tapas, sandwiches and burgers.
Enjoy the view on the mushrooms (Setas).
Mama Inés makes you feel at home. Tiny, cozy, warm heart.
This is a real hippie place, with a great cultural offering and dogs are welcome too! Don't miss to have breakfast here. They have the most particular combinations you can imagine. Get your tostada integral with fresh cheese, figs and sesame, or avocado, pomegranate and feta. You have to try it!
Internet here is ok. But not the best to be honest 😉
This very bohemian place is the best place for avocado lovers! With your tostada you get an entire half of avocado! Just amazing. Internet is good and you can either enjoy the interior, the "inbetween" terrace or outdoor!
foto credit: facebook.com/pg/labaronesacopas
The best place in Los Remedios to enjoy good coffee, perfect internet connection and terrace! They just opened in October last year (2017) and are already the new favorite place of many people in this barrio.
Where are the coffeecinas with terrace in Seville?
Was this post helpful to you? Leave it in the comment! We are happy to receive feedback or tips how to improve! And if you know another good place which isn't in the list, please share it as well! Sharing is caring! New in Seville is community!