Sevilla – la capital
Sevilla is probably the most beautiful city I've been to. Really. Beauty is just the perfect noun for that city. The colorful houses with their Azulejos (tiles), the parks and gardens, the smell of orange blossoms and the river Guadalquivir with its bridges. People's friendliness is overwhelming (as it's typical for Andalucía) and in terms of food it's also a paradise. This city should be on the top of your travel list in Andalusia.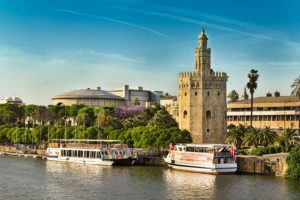 Málaga – urban and beachside
Málaga is international, urban, modern. Culturally I'd say it's the capital of Andalusia. It's the hometown of Pablo Picasso and Antonio Banderas and you find here many independent galleries and good museums. Due to it's international airport and harbor it's well connected to the world and therefore also the international hub of Andalusia.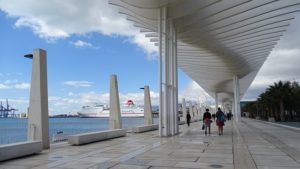 Granada – two worlds going hand in hand
Oh Granada. Mystic Alhambra, breathtaking view to Sierra Nevada, a free tapa with your drink and the beauty of two worlds going hand in hand. Granada is unique. You will realize it when you walk through the city's Arab Street life getting a feeling of being in Morocco, while enjoying the traditional Spanish tapas culture: get a tapa for free with every drink you have. Don't miss this city on your trip through autonomous community of Andalusia.
Cádiz – the little island
This city is like a tiny island connected to the country by a ground strip. Cadiz is surrounded almost 360° by the sea. The ancient port town offers you a gorgeous old town, waves crushing agains the old town wall and beautiful beaches nearby!  The most important flamenco musicians and artists were born here or have evolved in Cadiz. As artistas gaditanos are very traditional and loyal to their roots, they often come back and play as they're invited to. maybe you get the chance to crush into one of their improvised concerts!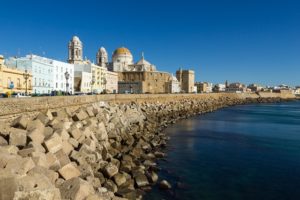 Córdoba – blooming romance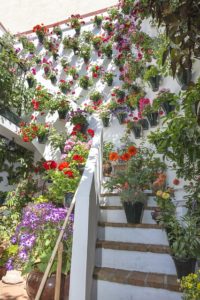 Even it's best known for their Mezquita, Córdoba has much more to offer. There's another important symbol and world heritage of the city. Experience the romantic and charming part, visiting the typical, blooming patios (courtyards) de Córdoba. They are really worth a visit. Since 1921 the habitants dedicate a whole week to this tradition and honor the most beautiful courtyard in town. This festival called "Los Patios de Córdoba" usually tooks place around may. But also during the year there are another options to visit the famous courtyards.